News and Events
Stay up to date with all that's happening at Trinity by checking back to this page frequently.
Carillon Newsletter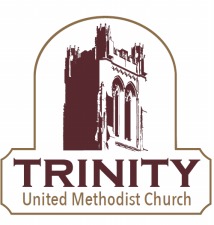 Worship Services
Trinity offers in person worship services. Members and friends are encouraged to make their own personal decisions regarding whether or not to wear a mask depending on individual preferences and health concerns. We recognize that some within our community hae eleveted health risks and concerns and ask that all members be sensitive to these concerns and respect the choices of those who continue to mask.
For the latest COVID updates including information about our worship services effective August 15, 2022, please visit our COVID updates page.
For those who are not able to join us in person, we will continue to provide our two virtual options: 1) a Sunday Morning LIVE-STREAMING option and 2) the recorded version of the livestream. You can access these on our on-line worship page.
Trinity Community Gallery
The updated Trinity Community Gallery is now open. The January exhibit features memories of the 40 years of the Boar's Head Festival.
There is also a new coffee bar next door.
The gallery is open on Sundays from 9 to 3 and during the week by appointment. Pictures of this month's exhibit can be seen on the Community Gallery page. Please stop by and veiw these beautiful quilts and creatures in person.
Slideshow of Recent Events
The Publicity and Communications committee has created a slide show of images of recent activities and upcoming events that plays prior to the live stream worship service. You can also view the slideshow HERE.
Parkside Pantry
The Parkside Pantry is open on the fourth Wednesday of the month from 5:30-6:30 p.m. at the Hale Room entrance to Trinity. We welcome new volunteers along with anyone who could use a little extra food at the end of the month.
The response from our neighbors has been positive. We are working with the Missions Committee, the Administrative Council, and community nonprofit agencies on a plan to keep the pantry supplied. In the meantime, we are reaching out again to Trinity's members for donations for the February Pantry since supplies are running low after the holidays. We are asking everyone who is able and feels moved to donate at this time to fill a bag with the following items: a box of cereal, a box of pasta, a jar or can of pasta sauce, a jar of peanut butter, a jar of jam or jelly, a can of tuna fish, a can of chicken, a bag of rice, a bag of beans and a roll of toilet paper.
Donations are needed monthly to help continue this ministry. We thank you in advance for your continued support and will keep you informed about our progress in pursuing long term community partnerships.
Publicity Request Form
The Publicity and Communications committee has prepared a form for work areas to use for requesting publicity. We are hoping this will help streamline publicity and make it easier to share all the activities that are happening at Trinity.
You can access the form HERE.
Trinity's Photo Blog
Trinity's Photo Blog is updated as events occur. As we are getting back into an in-person schedule, pictures will be added to the blog. You can access new pictures, as well as past events, by visiting this link.