I'm New
We know it's not always easy to visit a new church. We hope this information will make it easier for you to join us for our Sunday worship service and to become involved within the life of our congregation.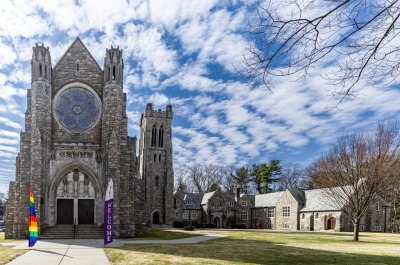 Trinity United Methodist Church gathers together at our congregation's home which is located at 361 Sumner Ave. (next to Forest Park) in Springfield, MA.
We welcome any and all who wish to worship with us. Trinity is a Reconciling Congregation and we encourage everyone regardless of race, ethnicity, sexual orientation or gender expression to worship with us.
Our Church School meets from 9:00 to 10:00 a.m. We have classes for ages 4 through adult.
Our service begins at 10:30 on Sunday morning and lasts for approximately an hour and 15 minutes.
Children of all ages are welcome and accommodations have been made for them during our worship service. To learn more about worshipping with your children, visit our Worship page.
Communion is served on the first Sunday of every month. You are welcome to participate in communion, regardless of your religious affiliation or church membership.
Baptisms need to be scheduled ahead of time with one of the pastors of our congregation. In addition, since members of the congregation are making a commitment to those being baptized and those being baptized (or their family members) are being asked to make a commitment to the church, there needs to be a prior connection between those being baptized (and their family in the case of an infant) and the congregation. Baptisms usually take place in the midst of a regular worship service. In the Methodist tradition we baptize infants, children, youth, and adults.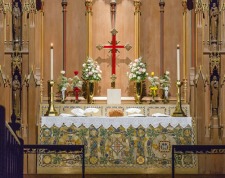 Our parking lot has handicap spaces as well as a space for "first time visitors." There is a ramp at the Chapel door entrance, to the right of the Sanctuary door. Inside this entrance is a lift with instructions for contacting the sextons who will operate it for you to have access to the fellowship hall. You do not need the lift to enter the sanctuary which will be on your left. We also provide large print bulletins and hearing devices as needed.
Following the service there is a Fellowship Hour in our community hall. Please plan to join us after the service to meet congregation members. Anyone will be happy to assist you in finding your way.
Information sessions are available multiple times throughout the year for all those who are interested in learning more about Trinity Church and would like to become a formal member of our community of faith. We encourage people who feel ready to take this step to participate in these offerings. During these sessions we discuss the history of Methodism, the history of Trinity Church, offer information on current ministries and initiatives of the congregation and answer any questions those in attendance may have. During these times together we also discuss the expectations of membership and offer an interesting tour of our church's facility.
If you are interested in learning more about membership at Trinity, please call the church office at 413-737-5311.
The best way to discern if Trinity is right for you however is to attend worship for a period of time, to participate in any of the many offerings of the congregation and listen for the "nudging" of God's Spirit. If you have any questions about life within this community of faith, the pastors will be happy to meet with you and discuss them further with you.
We look forward to having you join us for worship on Sunday!